When people think about the Maldives, they think about lavish beachfront resorts where they can dangle their legs over the sea while sitting on the edge of a private terrace. They imagine being pampered on a private island resort, surrounded by all of the luxuries that they can dream of. Let's face it, the Maldives and luxury have always gone hand in hand. In fact, this is how what most think of Maldives holidays, especially when it comes to price. But things have started to change. Nowadays, it is very possible to enjoy cheap holidays to the Maldives.
Whether you are on a romantic holiday, a family holiday, or flying solo, cheap Maldives holidays are the newest craze. In fact, it is possible to stay in the Maldives for up to one week for the same price as it would cost to stay in one of the top 10 hotels in the Maldives. Plus, steering away from the 5-star resorts will put more money in the pockets of the locals, as it is them that own and run the best budget-friendly Maldives hotels, most of which are simple guesthouses.
Even if you are on a budget, you will still get to experience all the amazing things that the archipelago has to offer on cheap Maldives holidays. The beaches are of course the main reason to visit these stunning islands, and why holidays to the Maldives so popular. It is also the reason why 'Islands' named it as one of the 18 Best Places to Travel in 2018. The best part is, you can spend lazy days on Maldives beaches without breaking the bank!
Photo by Haaish Umair on Unsplash
Independent holidays to the Maldives is quite new. In fact, guesthouses on local islands has only been allowed for the past decade. Before then, the government only allowed private Maldives resorts, most of which were on their very own island. Now, tourists are allowed to stay on local islands with local people, giving them a true insight into the real Maldivian way of life. By doing this, not only will you get to enjoy the stunning beaches, but you also get to mingle with the locals. And you may even make some great friends.
Here are a few tips on finding the best cheap Maldives holidays.
Cheap Flights
In the past, flights to the Maldives were quite steep, costing upwards of $2,000 for a return ticket. Now, it is possible to find flights to the Maldives for roughly $1,200, or even less if you travel on off days or visit during the monsoon season. You can even go on a longer, but cheaper route by flying first to Kuala Lumpur then getting a cheap flight with low cost carrier AirAsia. Most major hubs in Asia and the Middle East offer flights to Male, so if you are already in one of these parts of the world you may want to take advantage of the low cost of flights to the Maldives that are offered.
Another way to find cheap flights to the Maldives is to search after midnight, as travel costs tend to be reduced at this time of the day due to slow internet traffic. Of course, flying on a week day rather than on the weekend will also result in cheap Maldives holidays. As will taking a holiday to the Maldives in the monsoon season.
Photo by Shifaaz shamoon on Unsplash
Cheap Local Transport
Most of the swanky all-inclusive holiday deals include transfers, which in many cases is a seaplane or a private speedboat. These forms of transportation are very expensive and not ideal for people looking for Maldives holidays on the cheap. Local transport is very inexpensive, with public ferries regularly leaving Male to other local islands. You can even get public transportation from the airport to the ferry terminal, which is less than $1! From there, ferries cost anywhere from $3 to $10, as opposed to the steep fee of roughly $300 to travel by private speedboat.
Photo by Mark Fischer on  Flickr
Be sure to check the ferry schedule beforehand and book your travel plans accordingly, as they don't run to every island every day. But the flip side to this is that you could spend a night or two in the capital city of Male, shopping at the Male Market or wandering down Majeedhee Magu. Another option is to travel in a shared scheduled speedboat with companies like Atoll Transfer and  iCom Tours. This will be more expensive than local ferries, but still far cheaper than taking a private speedboat or a seaplane.
Cheap Food
Staying on a local island means eating more local food. This in itself will mean that you can enjoy cheap Maldives holidays while enjoying the local cuisine. Plus, many guesthouses give guests a complimentary breakfast, saving you even more when you are opting for Maldives holiday deals. Breakfasts are often large enough to fill you until dinner. But if you do get hungry you can easily buy some local hedhikaa (snacks).
Some guesthouses also provide dinner (half-board), which is often eaten with the owner and his/her family. This is a fantastic experience and one that you won't get when staying in 5 star all-inclusive resorts. Most meals will revolve around mas (fish), and flavors that hail from Sri Lanka and Southern India. A few of the islands do not have any restaurants, so guesthouses will offer cheap all inclusive holidays. Others have a small selection of eateries to choose from, with menus containing local dishes. Still, dining in these restaurants will not cost much, with a meal for two being at most $20.
Photo by Celestial-Troupe2012 on Flickr
Cheap Excursions
If you want to get out and explore a little bit, the best way to do this is to book excursions through your guesthouse. You might also want to ask at other guesthouses nearby to see what they have to offer. Shopping around is always a great way to get the best deals, regardless of where you are. This also stands true when on cheap holidays to the Maldives. You can also find good deals online, especially for things like diving and snorkeling, which tend to be expensive. If you are a diver, the best way to save money and see the Maldives incredible marine life is to go on a live aboard. You can also visit some of the Maldives underwater resorts to view the spectacular sea life.
There are over 1,000 islands in the Maldives, with only 200 of them being inhabited. Of these inhabited islands, roughly half of them offer accommodation options for tourists. This does not include the 80 or so islands that are home to private Maldives resorts. These are local islands that have recently been open to tourism.
Anyone looking for the best cheap Maldives holidays will find plenty of options if they stick to these local islands. Some of them have fantastic infrastructure for visitors, others don't. But one thing that they all have in common is that they are locally owned and considerably cheaper than 5 star all inclusive resorts. Still, you won't find dorms or budget bungalows on the beach. Instead, This site compares the rates for guesthouses on other hotel booking sites, including Booking.com, Agoda, and Hotels.com, so you can really find the cheapest deals for your Maldives holiday. You can also click here to see the latest deals on Maldives hotels.
The islands that are most popular amongst travelers looking for cheap Maldives holidays are Maafushi, Guraidhoo, and Huraa in the Kaafu Atoll, and Fulidhoo in Vaavu Atoll.
Maafishi
The first guesthouse to ever open on Maafishi island was in 2010, and since then numerous others have opened. In fact, today there are over 70 guesthouses to choose from, and it is arguably the most developed local island in regards to tourism. It is connected to Male by public ferry, with service running at 11:30 every Sunday, Tuesday, and Thursday, as well as every day at 15:00 except for Fridays.
The beach on Maafishi is small, but stunning, and it can get crowded during the high season (November to April). Still, it is a great spot for enjoying a cheap Maldives holiday. Most guesthouses are 3-star hotels, though there a few 2- and 4-star hotels to stay in. Top choices on Maafishi include Sun Shine View, Ethereal Inn, and Triton Beach Hotel & Spa. You can also find more deals on Maafishi hotels here.
Guraidhoo
This local island is home to a semi legal bikini beach that is ideal for budget-minded travelers that want to enjoy a relaxing Maldives holiday. Guraidhoo also happens to be a top spot for snorkeling, with equipment being available for rent at many of its guesthouses. Local ferries leave Male for Guraidhoo everyday (except Friday) at 14:30, arriving around 1.5 hours later.
The island is quite developed, being home to a hospital, a police station, and a shopping strip. There are also a handful of restaurants where you can savor local eats. Plus, there is Picnic Island. Picnic Island features a beach that allows tourists to sunbathe in a bikini, which legally is not allowed on Guraidhoo. To get there, walk along that footbridge that stretches across the sea.
There are approximately 15 accommodation options on Guraidhoo, with more being developed. Click here to find deals on Guraidhoo hotels. A few highly rated guesthouses to consider staying at on Guraidhoo include Coco Cottage, Ithaa Beach Maldives, and Wind Breeze Sunset View Inn.
Huraa
Located in the North Malé Atoll, Huraa is an important island when it comes to Maldivian history, as the last royal dynasty to rule the country had roots here. In fact, the island was founded by Sultan al-Ghazi Hasan 'Izz ud-din; the first sultan of the Huraa dynasty.
Huraa is a small island that can easily by traversed on foot in just 1 hour. It is one of the lesser developed local islands, making it a fantastic choice for travelers that want to enjoy a more secluded cheap holiday in the Maldives. Local ferries run from Male to Huraa every Wednesday, Thursday, Saturday, and Sunday at 14:30. There is also an additional ferry on Thursdays and Saturdays at 23:00.
The island is home to the Four Seasons Resort Maldives at Kuda Huraa, though there are also a few accommodation options for those looking for cheap Maldives holidays. Click here to find current deals on Huraa hotels.
Fulidhoo
Vaavu Atoll's northernmost inhabited island, Fulidhoo is not as popular as some of the other local islands, which is part of its charm. It is a picture perfect destination, with only 8 accommodation options for travelers. Of these, only 3 are set right on the beach; Kinān Retreat, Luau Beach Inn, and Thundi Guest House. One of the main reasons to visit the island is for its superb diving, but the great snorkeling, fantastic culture, and stunning tourist beach have never made anyone turn down the chance to visit Fulidhoo.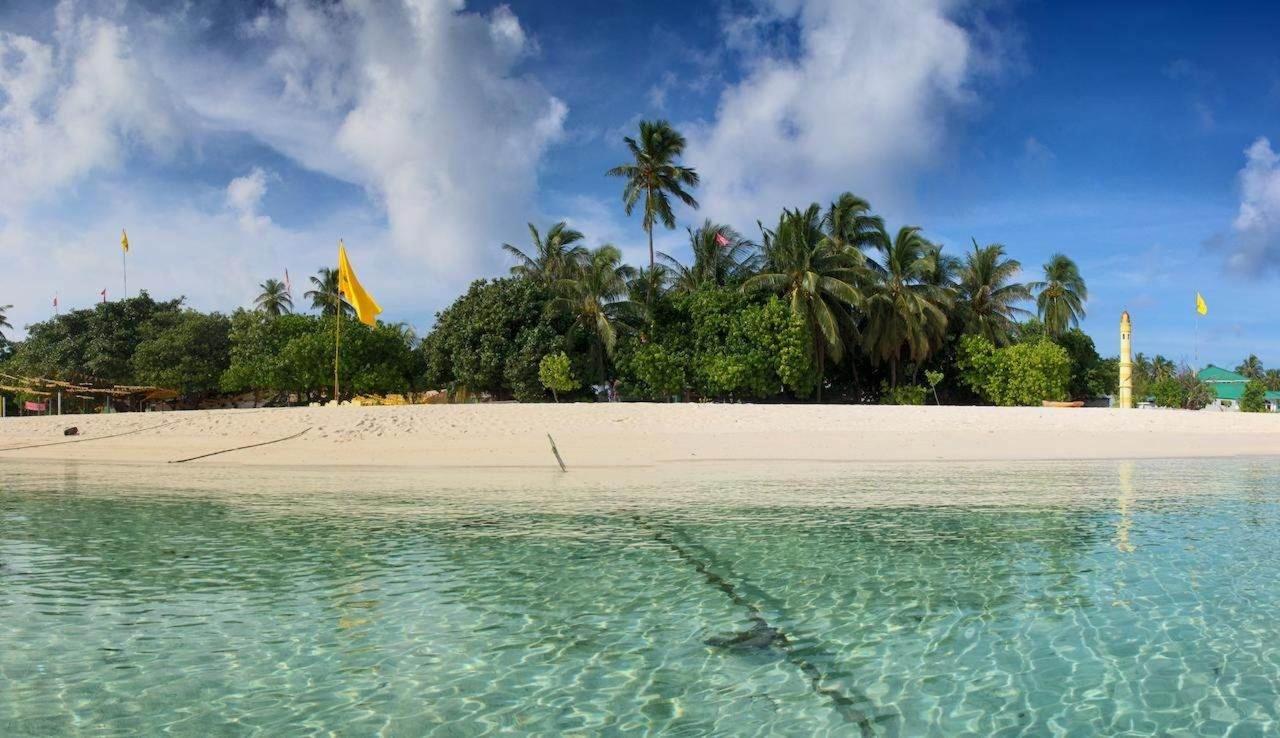 Photo credit: Thundi Guest House
Fulidhoo is accessible from Male by public ferry, which takes around 3.5 hours. The ferry leaves Male at 10:00 on Sunday, Tuesday, and Thursday, making a stop at Maafishi along the way. To make the journey on another day, take a scheduled speedboat.