The Maldives continue to top the list of most luxurious tropical hotspots in the world. With over 105 resorts speckled over turquoise glassy waters, it's easy to see why so many people choose to vacation, honeymoon, and unwind on one of these idyllic Maldivian islands.
Planning a dream Maldives holiday requires a little research, as not only do you want to choose the right flights and find the most stunning resort, but you will also need to book your holiday at the right time of year. The Maldives has a high season and a low season, and each brings its own benefits. Read on for some tips and tricks that will help you decide on the best time to visit the Maldives.
The Maldives Climate
The islands are blessed with warm weather year round, and temperatures rarely drop much below the 80s. Humidity sits at a relatively high 80%, but the gentle ocean breeze helps to keep things comfortably cool at night. You'll never have to worry about chilly waters either, as sea temperatures hover between 26°C and 29°C year-round.
When deciding on when to visit the Maldives, you can plan your trip in the high season or the low season:
Maldives High Season: December to April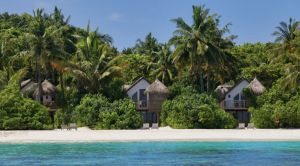 Sun-worshippers will fare well visiting during these months when the temperatures rise and the number of rainy days decrease. Charts show that February and March have the longest hours of sunlight per day. Rainfall is limited but late-afternoon showers and thunderstorms can quickly from, more frequently so in the southern atolls. Luckily, these often pass as soon as they arrive, so you will be back basking in the sunshine in no time.
The best weather also brings with it higher rates, particularly during the holiday season towards the end of December and at the start of January. This is when the top resorts often reach full capacity, so be sure to plan and book your Maldives holiday in advance.
Special Events in High Season
A high season Maldives holiday can let you bring in New Year in style, or escape that Christmas Day cold, and instead spend it merrymaking on a palm-fringed beach.
National Day (January)
Fisherman's Day (December 10)
Christmas Day (December 25)
Resorts will incorporate the major holidays into their island offerings. Many put on a special festive Christmas Day buffet or dinner that serves up European and Maldivian favorites with a twist. If you're spending it with the whole family, you can even arrange for the chefs to cook up a traditional dinner for you.
On New Year's Eve, resorts will offer gala dinners, acrobatic shows, and even well-known performers make an appearance at some of the larger resorts, such as The One and Only Reethi Rah.
What to Pack for a Maldives High Season Holiday
You can prepare for the sun-filled beach vacation of a lifetime by packing appropriately. Choose fabrics that are light and airy to keep you cool during the hot days, and don't forget your swimwear and workout gear.
UV levels are higher in these months, so ensure that you are protected from the sunshine by packing a good quality natural sun cream. Standard sun cream contains a number of chemicals which gather on the top of the ocean and can damage the fragile marine ecosystem. Also, throw in a few pairs of your favorite sunnies, and a multi-purpose sarong to cover up if you want to go straight from the beach to the poolside sundowner-spot.
The warm ocean waters have excellent visibility during the high season,  so bring along a waterproof camera or a GoPro with its housing. A DSLR camera will also get lots of use here, as will the camera on your phone. Some holidaymakers like to completely switch off, and a few of the resorts even have technology-free areas so that you can enjoy a mini digital detox.
Maldives Low Season: May to November
May brings with it the start of the rainy season when downpours can be expected on around 15 days of the month. Temperatures stay warm throughout May, as do sea temperatures with an average of 30°C. Head on to June and August time when you can expect cooler climates, more rain and cloudier days. November marks the end of the off-season, and it's in this month that you can expect average temperatures of 27°C, and around six hours of sunshine a day.
Special Events in the Low Season
Huravee Day (July)
Independence Day (July 26)
Ramadan (August-October, 30 days)
Victory Day (November 3)
Republic Day (November 11)
Some resorts may organize celebrations to mark the events happening in the Maldives low season. Ramadan is one of the most important holidays in the calendar year. Ramadan isn't on a set date, instead, it starts depending on the lunar cycles. During this time period, locals will fast (no food or water) from sunrise-to-sunset. This won't affect resort-life but if you visit one of the local islands during this time, be mindful of eating and drinking while you are there in daylight.
No matter what time of year that you visit the local islands, you should always respect the local culture by dressing modestly, avoiding drinking any alcohol and avoiding any public displays of affection.
What's the Weather Really Like in Maldives Low Season?
If you visit during the low season, you will likely have your fair share of rain. However, downpours are often intense but short-lived, and they can often clear up late afternoon to bring sunny or partly cloudy skies. Your villa will come with umbrellas, so you can keep dry while moving from place to place. The southern atolls get around 20% more rainfall than the northern ones, so you may want to take this into consideration when choosing your resort. A benefit of visiting during the low season is that the rain will often help to lower the high humidity levels – even if it's just for a few hours.
There is something cozy about hearing the pitter-patter of rain on your thatched-roof villa as you snuggle up and watch a movie or indulge in a little room service. Choose a luxurious spa resort and you can indulge in some pampering when the rain comes.
If rain and storms bother you, or if you need 9 hours of solid sunshine to be content on your holiday, then the low season is definitely not for you. But for everyone else, it can be an enjoyable experience and even add to the magic of the Maldives.
What to Pack for a Maldives Low Season Holiday
If a low season Maldives holiday sounds like it could be for you, you need to pack accordingly too. Bring the usual resort-style wear that you would for high season; think tropical prints, flowing fabrics and island-vibe swimwear. Accessories-wise, pack a few pieces of dressy jewelry to help transform beachwear to sunset-chic attire. Pack a light cardigan or sweater that you can wrap around your bronzed skin on cooler evenings, and workout gear if you plan on hitting the gym or taking a yoga class.
Even on a cloudy day, the sun can still be strong, so be sure to pack sun protection as if you would for a high season Maldives vacation. In fact, it can be a little deceiving with the cloud cover, as it actually makes it easier to get burnt as you don't realise how much sun you are getting. So it's a wise idea to bring along a wide-brimmed hat or cap, UV sunglasses and a light kaftan or cover-up that you can quickly throw over your beachwear.
Don't worry too much about 'wet weather' gear. The rain and temperatures will probably have you swimming in the warm shallow lagoons, and frolicking on the beach – even when it's tipping it down. You may want to download a few films and bring a few extra books to read when you're there, although most spots will have a library and full, on-demand movie selection to choose from.
Are There Tropical Cyclones in the Maldives?
Tropical cyclones in the Maldives are incredibly rare occurrences. On the odd occasion when they do hit, they will do so in the atolls that are in the Northern Indian Ocean region, as cyclones can't form in the areas that are nearer the equator. If you're visiting in low season and worried about cyclones, then choose to book a resort that is on one of the Huvadhu, Addu, Fuvahmulah atolls.
Best Time to Visit the Maldives for Divers
Keen-divers will be pleased to hear that both seasons bring their own benefits to the underwater world. December to April brings with it the best visibility, but the currents are also the strongest during this time of year. From June to November, the skies are cloudier, the seas are rougher, and the wind-speed picks up too. However, during this time, reef sharks will congregate in the western atolls and the number of manta rays increases at this time of year too.
The best months for liveaboard adventures are between November and May, particularly if you don't fare so well on rougher seas. Liveaboards do depart year-round though, so you can scuba in any season. If you time it right, a trip to Hanifaru Bay between August and November is one of the most spectacular sites. During this time, thousands of rays and white sharks gather to feed on the plankton fields. Because of this, the area is now declared a marine reserve and permits will be required to snorkel or dive here.
The Maldives is also an excellent surf spot, with a general surf season running from April to October. If you want to catch some waves, check out our list of best surf spots in the Maldives.

Best Time to Visit the Maldives on a Budget
Like any getaway destination, if you choose to visit off-season you can save a lot of money on Maldives holidays. Flights will be cheaper during these months and accommodation rates are also cut to entice guests to book. If you don't mind rain and the odd storm, then off-season my work well for you. Do a little research and you can find some cut-price flights, discount hotels or wallet-friendly Maldives holiday packages in the low season.
How to Choose When to Visit the Maldives
At the end of the day, when you choose to visit the Maldives will ultimately depend on your budget, schedule, and weather preferences. Some people subscribe to the thought that if you are going on a holiday of a lifetime, then why not choose to visit when weather conditions are at their most favorable? Others are grateful for a good deal and are not put off by the rain. Take all of the factors into consideration and you'll be sure to choose wisely.
So what's it going to be, the low season or high season? No matter what time of year you choose to visit, those emerald green palms and powered sands will still be there. You'll still get to enjoy the beach, sample incredible food, and dine under star-filled skies.
Take your time and then take your pick, it's near impossible to be disappointed with a Maldives getaway, no matter what time of year you visit.