Sparkling oceans and swaying palms; a million cliches are used to describe the stunning Maldives, yet they all ring true. Nowhere else on earth has sands quite as white or islands as photogenic as the magical Maldives.
The once-in-a-lifetime holiday destination certainly lives up to its reputation, with luxury resorts going above and beyond to provide you with a truly tropical and memorable stay. Yet it's a good idea to do a little research that goes beyond just finding the best flights and the perfect accommodation. You'll also need to think about transfers, weather, when to go, tipping, customs, and of course what to pack. We've done the research for you and compiled everything that you need to know before you jet-off on your vacation to the Maldives.
How to Get to the Maldives
All flights arrive at Male International Airport (MLE), which is located on Hulhulé Island in the North Malé Atoll. It is served by a huge range of major airlines including Emirates, Air India, Air France, Qatar Airways, Saudi, Air France and China Eastern. Air Asia X has also recently started to offer discount direct flights to the Maldives from Kuala Lumpur.
It's worth noting that there are no direct flights from anywhere in the United States to the Maldives so you will instead have to stop-off along the way. Popular connecting routes include via Dubai or Singapore, and you can even build in a multi-stop trip into you vacation if you want to have time to explore other countries.
You can use Skyscanner to find cheap flights to the Maldives. They have a calendar feature which allows you to compare flights from different airlines on a specific date, or even over a whole month or year. Quite often, business and first class seats will get snapped up quickly on popular routes, yet many people report coach class as being half full, particularly during the quieter off-peak season.
Maldives Seaplane Transportation
After your arrival at Male International Airport, you will need to continue your journey to your resort, hotel or guesthouse. If you are staying at one of the 110+ luxury resorts, then you will need to arrange your transfers before you arrive. For a vast majority of the resorts, these transfers will be by seaplane, while some of the nearer resorts offer shared or private speedboat transfers.
When you book a seaplane transfer, you will be greeted at the airport and taken to the seaplane departure area. The larger and fancier resorts, such as Constance Moofushi, have special waiting areas where you can enjoy a glass of bubbly, or even take a shower to freshen up before you board your plane. Seaplanes do not have set departure times as a lot depends on the current weather conditions. However, you will be given a rough time for your departure.
Seaplanes do not depart after dark, so keep this in mind before you book your flight to Male International Airport. If you can only arrive late at night, then there are several hotels such as Hotel Jen and the Novina Hotel which are located just a short drive away from the airport. They will also come with a strict luggage allowance per person, so double check what your weight limit is before you leave.
A seaplane trip is part of the Maldives experience, so jump at it if you have the chance. Try and land yourself a window seat so that you get the best views of some of the 1,200 islands that are speckled over the Indian Ocean. Seaplanes can be a little tight for space, and sometimes you will be asked to place handbags and personal items at the back of the plane, so make sure you grab your camera before you take-off.
Maldives Weather and Seasons
The Maldives are lucky to have tropical warm weather year-round. In fact, it's rare for temperatures to drop below a balmy 75°F, and sea temperature hover between 26°F and 29°F throughout the year. It does have two distinct weather seasons though: the low season which runs from May to November and high season which runs from December to April.
The high season brings with it the highest temperatures as well as higher rates. The months of December and January are popular as many choose to escape the cold and celebrate the holidays on the sandy shores. If you're a sun-chaser, then February and March have consistently shown to be the months that are blessed with the longest hours of sunlight per day. All-day downpours are rare during the high season, although there can often be a brief afternoon shower which helps to clear up some of the humidity.
During the low season, also known as the off-peak season, rainfall is expected and days can be overcast. May marks the start of the low season and has an average of 15 rainy days per month. Fast forward to August and things get a little rainier and cloudier. Although, every cloud has its silver lining: If you book off-peak Maldives holidays than you can save a huge amount on accommodation rates and flights, plus the crowds are thinner during these times. Check out this blog post for more information on when is the best time to visit the Maldives. 
Maldives Money: Currencies and Credit Cards
The Maldives has a non-refundable currency called the Maldivian Rufiyaa (MVR), which can't be purchased beforehand. You can choose to pick some currency up at the airport, although if you are staying on one of the larger resorts you might not need it. All resorts will accept a range of debit and credit cards options, while some will also accept USD, EUR, and even Japanese Yen.
Accommodation Options in the Maldives
The majority of holidaymakers will choose to stay in one of the many private-island resorts. These are where you'll find those iconic stiled overwater villas, as well as smaller beachside villas and huts. These do come with a pretty hefty price tag, but in recent years there are more affordable accommodation options springing up. There are a number of family-run guesthouses on the local islands, and some locals even starting to rent out spare room or apartments on Airbnb. Head here for our pick of the top ten hotels in the Maldives. 
Local islands provide a true taste of the culture, but they are often a world away from the chilled-out vibes found on the isolated resort islands.
Is All-Inclusive Worth It?
Should you choose to stay in a resort, you'll find that many offer all-inclusive package options. These programs vary widely depending on who offers them, so be sure to check the fine print so you know exactly what's included before you go. In most instances, they will include breakfast, lunch, dinner, snacks and local or imported spirits. Some will throw in extras such as a massage, a fully stocked mini bar which you can raid for free, and excursions.
Considering this, these all-inclusive Maldives holidays are costly, which can be little off-putting for those on a budget. However, the other route is to purchase meals separately and considering how isolated the Maldives are, along with the high sales tax, dining out can be incredibly costly. Therefore, we do recommend going for an all-inclusive option if you want to be able to unwind in paradise without fear of what your bill is going to come to at the end of your stay. If all-inclusive is not for you, then you may want to think about half-board or even a room-only stay.
What to Pack for a Maldives Holiday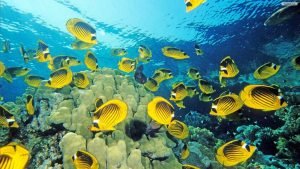 So you've chosen your date, booked the most marvelous water villa, and now it's time to pack. Unlike other holiday destinations, if you're staying on an island resort, there won't be much available when it comes to shopping. There will often be a small convenience shop which offers necessities that you might have forgotten (such as sunscreen and aftersun), just be prepared for the inflated prices. The One & Only Reethi Rah and other higher-end resorts have little boutiques that sell swimwear, sunglasses and island-vibe accessories too.
No matter what time of year you go, you will want to pack light and airy fabrics that will help you to keep you cool. Think tropical prints, floaty kaftans, and your favorite swimwear. Protect yourself from the sun with UV sunglasses, a large brimmed that and perhaps a sarong or versatile cover-up. Accessories will serve you well here, and help to transform daytime outfits into something a little fancier for sunset cocktails or a poolside snack.
Many resorts have a 'barefoot policy', where you are asked to remove your shoes as you step off that seaplane, and you are not required to put them back on until you leave. Others will request that you wear shoes to sit down dinners. If this is the case, leave those heels at home, and instead opt for a pair of sleek sandals or closed-toe flats.
The underwater worlds are a marvel to behold, so it's worth picking up a waterproof camera or GoPro with housing in order to be able to capture them. A book or Kindle is also a wise idea to keep you occupied during the flights, or while lounging in a breezy oceanside hammock.
There are a few things that you should not pack, the main being any sort of alcohol. It's illegal to bring booze into the country, be it spirits or beer. They do screen all bags on arrival so be sure to leave it all at home. Religious articles are also not allowed.
Maldives Customs
If you're visiting one of the local islands then you should be mindful of the traditions and customs. Avoid any public displays of affection such as kissing and even holding hands with your partner. If it's during Ramadan, then you should also be respectful of that fact that people do not drink or eat anything from sunrise to sunset. Alcohol is a no-go no matter what time of year you visit, and dress modestly too. These customs don't apply on the resort islands, so feel free to sip champagne and be affectionate to your heart's content while enjoying your stay there.
Tipping in the Maldives
It is not compulsory to tip in the Maldives as a 10% service charge is added to bills. Despite this, staff do work exceptionally hard and often for incredibly low wages, so if someone has gone above and beyond to take care of you then you may want to show your thanks by giving them a little something.
You can leave tips for masseurs after your treatment – many will allow you to pay extra on your bill when signing to your room or paying by card. You can also choose to leave money in dollars or euros in envelopes and leave them for the hard-working cleaners who keep your room spotless. Some resorts have a tip box where you can leave tips for staff who work behind the scenes to ensure you have a magical stay.
Cheap Maldives Holidays: Tips For Travelers on a Budget
Maldives holidays aren't known for being cheap, but there are several things that you can do to cut costs on your getaway. The first is to book during the off-peak season and be sure to avoid any sort of public holiday. You may want to look at booking your flights and accommodation separately, as well as at Maldives package deals.
Many resorts will send special offers to people who are signed up to their newsletters or subscribed to their social media platforms, so make sure that you are following them to get yourself some great Maldives deals. Use comparison sites like Skyscanner and Hotels Combined to compare the rates for hotels and flights and make sure that you are getting the best prices around.
You can use a Cashback site to save 1% – 4% off your booking, and remember to collect travel points and air miles that you can redeem against future holidays too.
For the ultimate shoestring trip, book yourself into a sweet but simple guesthouse on one of the local islands. When it comes to eating out, you can do as the locals do and feast on freshly-caught BBQ fish, young coconuts and tropical fruits, and stock up on snack and essentials from the mini-mart. Click here for more information on how to find the best cheap Maldives holidays.
From flights and timings to tips and customs, that pretty much covers all that you need to know before you go. All you need to do now is book your trip, and you could soon be dipping your toes in the sand, and bronzing yourself on one of those Instagram-worthy beaches. Enjoy!