When you think of the Maldives, stilted thatched villas, fancy fine dining and lifestyles of the mega-rich spring to mind. In fact, the Maldives are known for being one of the priciest vacation hotspots in the world, with the average overwater villa costing around $1000 per person per night.
However, savvy travelers have found a number of ways to land crazily-good Maldives deals including cheap flights and discounted five-star resorts. Combine some of the Maldives travel tips mentioned below, and could save you up to 50% off your tropical paradise getaway.
What Time of Year for the Best Maldives Deals?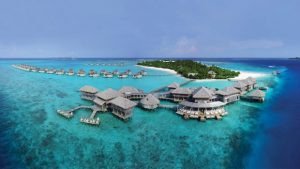 This is the million dollar question, and it is the main way to save money on your Maldives vacation. The Maldives have two main seasons: the high season which runs from December to April and the low or off-peak season which last from May to November. Book your holiday during the quieter low season and you will be sure to find some of the best Maldives deals around.
Of course, low-season vacations have a few downsides. Daily rain showers are probable, thunderstorms do happen and many days will be overcast. But you can choose to look on the bright side: the rain is warm, showers are typically brief and there is also something rather cozy and romantic about listening to the pitter-patter of rain on your villa roof while you snuggle up with a loved one.
If you're a sun bunny and you have your heart set sunshine-filled days, then you can still find cheaper deals at certain times during the high season. You will want to avoid the months of December and January when holidayers flock to the Maldives for festive celebrations (and to escape the cold weather back home). Flight and resorts prices tend to dip towards the end of February to mid-March. You will want to steer clear of April too when many people choose to take a break during the Easter Holidays.
Package Maldives Holidays or Separate Bookings?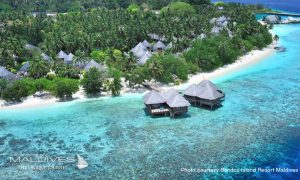 When it comes to booking your Maldives trip, there are also two routes that you can take: You can search for a package holiday which includes your flights and accommodation, or put in a little work and book your flights and hotel separately.
Package deals are a great option as they can save you a lot of time and hassle. Some will also throw in seaplane or boat transfers to get from Malé International Airport to your resort.
If you love a good bargain hunt and have the time to spare, then booking things separately could work well for you. By comparing flights, and searching for discounted rooms, you can often shave some money off the cost of a package holiday. There are exceptions to this rule though, and last-minute package holidays can sometimes work out cheaper than booking it yourself, so do a little research and save yourself some cash.
How to Find Cheap Flights to the Maldives
Cheap flight hunting can be fun when you have a little system in place to find the best Maldives deals. Avoid heading straight to the airline's website to search, as flights costs are often much higher when you go direct. Instead, head on over to the holy grail of flight comparison sites: Skyscanner.
Skyscanner is such a valuable tool for bargain flights because it compares almost every airline under the sun at the click of a button. If you're flexible with dates, then we recommend using their fare finder calendar which will show you the cheapest flight deals over a month or even a whole year. Typically, return flights work out cheaper than two singles, but it's worth having a quick check for single flights just in case.
Another thing to consider is the airport that you depart from. Some budget airlines will offer incredible deals from lesser known airports. The same applies to connecting flights, as quite often it will work out cheaper if you stopover on the way, although don't go for this option if you're already pressed for time. Google flight Matrix system is a great way to find these budget connecting flights.
Travel Hacking: Does It Work for the Maldives?
You've probably read a story about a couple who saved points, signed up to deals and landed themselves a free, all-inclusive vacation to the Maldives. And yes, while this is certainly possible, it may take a while unless you are a super spender or frequent flyer.
However, there are a number of ways to 'collect points' and use them towards your Maldives getaway. Be sure to collect air miles for every flight that you take. Some airlines will even allow you to redeem points on flights that were taken up to six months ago, so head to the airline's website for more information on their terms and conditions. You can also collect points (which can be converted to air miles) on things like groceries, gas, and shopping.
Many large airlines have credit cards which offer a large chunk of air miles just for signing up. This can be a good option, just be sure to pay off your balance and read the small print before you sign-up.
Maldives Accommodation Options
Bring up a mental image of the Maldives and you'll likely see a luxurious stilted villa perched over glittering waters (perhaps with a few swaying palms in the distance). And, it's true that most of the larger resorts offer this type of accommodation, but there are a few other different options available too. Most will have cheaper beach or pool-side bungalows, as well as rather rustic huts that can cost a fraction of the price.
Guesthouses are also springing up on some of the local islands, and they do offer an incredibly cheap way to stay in the Maldives, however, they lack the luxury and trimmings that come with a well-kept island mega-resort. Some locals are even renting out spare bedrooms and apartments on Airbnb. Remember, that the main island (Hulhule) is home to over 150,000 residents, which makes it the most densely populated island on earth, and pretty far away from those Robinson-Crusoe-style resorts that are a short journey away.
Another option that's particularly suited to keen scuba divers and snorkelers is a liveaboard. These large boats offer sleep-in accommodation and will often come with all meals and excursions included in the price, plus they depart year-round. Maldives liveaboard holidays are best suited to couples, as solo travelers who want their own room will often have to pay a hefty single occupancy fee.
Is All-Inclusive Worth It?
One of the toughest decisions you'll have to make when it comes to your Maldives holiday is whether or not to go all-inclusive. A surprisingly large number of resorts offer all-inclusive packages, which will sometimes be listed under another name such as the gourmet club or the platinum package. Depending on where you stay, this will include things like all meals, snacks, local or premium drinks, activities and sometimes even excursions. Half-Board-packages include lunch and dinner, and there are room-only resorts too.
Unsurprisingly, all-inclusive options cost way more than room-only resorts. But before you turn your nose up at the extra costs, It can actually be more than worth it to shell out the extra cash for this option. Everything is imported in the Maldives (bar coconuts and some fish), so you are going to pay extremely high prices for almost everything. On top of this, there are often high taxes and service charge rates added on top of your food bill, so things can add up pretty fast.
If you're on a budget but want to stay in a resort rather than mainland guesthouse, then it's a wise idea to go for the all-inclusive option. At least then you can chill out knowing that everything is paid for, and you won't be hit with any nasty surprises (a huge bill) at the end of your stay.
How to Find the Best Maldives Hotel Deals
Finding the best Maldives hotel deals also takes a little detective work. You can use a hotel comparison site such as Hotels Combined. These sites will compare the costs of resorts and hotels from different booking sites – you will be surprised at just how much you can save. It's often worth checking out the resort's official website too, as sometimes they will offer special deals such as free nights if you book directly through them.
You can also sign up to hotel newsletters and follow them on social media, particularly Instagram and Facebook. Many brands will use these platforms as a way to share special offers with their followers and will send out deals via their newsletter that are not available elsewhere. And finally, have a quick search for coupon or discount codes before you make that booking. Search coupon sites to see what's available, and the input the code at checkout to land yourself another discount.  
Think Outside of the Travel Box
If that wasn't enough, there are a few sneaky little tips that can save you even more money off of your Maldives adventure, such as using a cashback site when booking most hotels and flights. These sites will pay the money that is normally paid to advertisers directly to you. They are free to use, and you just shop and click through the website to the seller's website before making your purchase. You can save between 1% – 5% off your holiday when you use a cashback site. Although that may not sound like mountains of money, it does add up in the end and will certainly cover the cost of a few pina coladas.
Also, avoid extra costs while on your resort island by making sure that you pack everything you need. The little on-site resort shops are often extortionately priced, and you can end up paying 300% more for that bottle of suncream than you would at home. Plan accordingly, create a checklist, and you won't have to step foot in that overpriced resort shop at all.
If you happen to remember that you forgot something on the way there, then try picking up the essentials at the International Airport before you board your seaplane or ferry. Remember, it's illegal to bring any sort of alcohol into the Maldives and they screen all bags on arrival at the airport, so leave your favorite tipple at home.
It's worth noting that the Maldives has a non-convertible currency called the Maldivian Rufiyaa. You can collect currency at the airport on arrival. All of the larger resorts will accept a variety of credit and debit cards, while some vendors on the local island will accept US $ providing that the notes are small.
How Far in Advance Should I Book My Maldives Holiday?
This is a great question, but there are two main schools of thought when it comes to what's best. The first is that you should book with plenty of time in advance before things get booked up so that you can get the early bird deals. The other is to book your holiday at the last-minute in order to get the best Maldives deals and discounted flights.
Ultimately, what you choose to do should depend on your travel style. If you have one resort in mind that you just have to stay at, then you really should be booking way in advance in order to avoid disappointment. However, if you're flexible and slightly more laid-back, then you may want to think about booking things last-minute. Resorts will often slash their rate at the last-minute if they have space available, particularly those that offer room-only or half-board options.
From comparing flights to timing it right, these are some of the most effective ways to score the best deals to the Maldives. If a vacation to the Maldives is just a pipe dream, then you can still get the ball rolling by entering travel competitions, collecting air miles and points, or simply putting aside a little each and every day to grow your holiday fund; with persistence and faith you will be sunning yourself on those sugary sands in no time. Happy travels!