When it comes to dream vacations, the Maldives never fails to deliver. Picture-postcard scenery, crystal-clear waters as warm as a bath and teeming with a myriad of marine life, and footprint-free white sandy beaches shaded by swaying coconut palms and kissed by gently lapping waves. And that is just the beginning…
The Maldives' chain of nearly 1,200 gorgeous islands that fan out across the Indian Ocean boasts some of the most luxurious hotels and retreats in the world. Think over-water bungalows with glass-bottomed floors, private plunge pools that seem to merge with the distant horizon, underwater restaurants where you can dine while watching turtles glide serenely past, and indulge in Eastern-inspired spa treatments that soothe the mind, body, and soul.
Many of the Maldives' top-rated resorts offer half-board or full-board packages, in which breakfast-only or breakfast and dinner are provided as part of the nightly rate. However, when it comes to an all-inclusive option, there are a few properties that offer exceptional packages, some of which even include high-end liquor.
Here are some of the best All-Inclusive 5-Star Maldives Resorts that feature incredible accommodations, gourmet epicurean delights and world-class libations, luxurious spa and wellness treatments, and more. These beautiful retreats truly are the ultimate for living it up in style.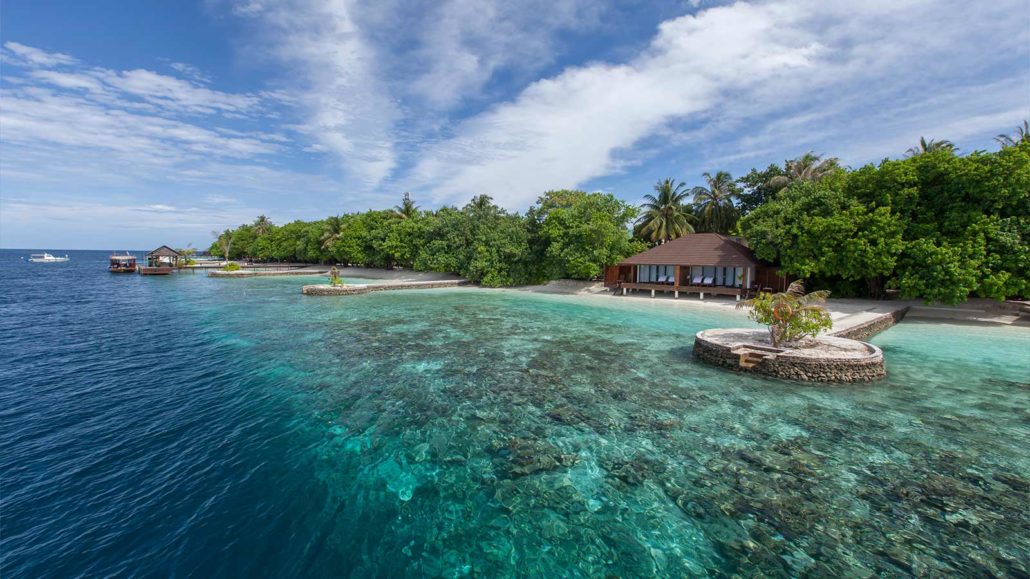 Courtesy of Lily Beach Resort & Spa
Surrounded by the cerulean waters of the South Ari Atoll, Centara Grand Island Resort & Spa Maldives exudes a timeless and enchanting appeal for those looking for the ultimate barefoot paradise. Boasting colonial-style buildings connected by timbered walkways, spacious over-water villas and suites that seamlessly blend into the natural surroundings, and a palm-fringed beach and shimmering lagoon, this luxurious retreat promises an idyllic getaway.
Accessed by a private seaplane flight or a transfer between Velana International Airport and Maamigili Airport and then onto the island, the resort offers exquisitely appointed suites and villas with airy indoor and outdoor living spaces, and deluxe amenities. Guests can also unwind at an exclusive spa and wellness center, a fitness and yoga center, and several restaurants serving delectable Asian and Western-inspired cuisine.
Water-sports abound at Centara Grand Island Resort & Spa Maldives and guests can enjoy a range of outdoor and recreational fun, including swimming, snorkeling, scuba-diving, windsurfing, wakeboarding, waterskiing, banana-boat riding, and more. The island has a shipwreck just off shore which makes for excellent diving, along with easy access to some of the most famous dive sites in the world.
Centara Grand Island Resort & Spa Maldives offers the Ultimate All-Inclusive concept for guests wanting an unrivaled and hassle-free holiday. To book this beautiful resort, click here.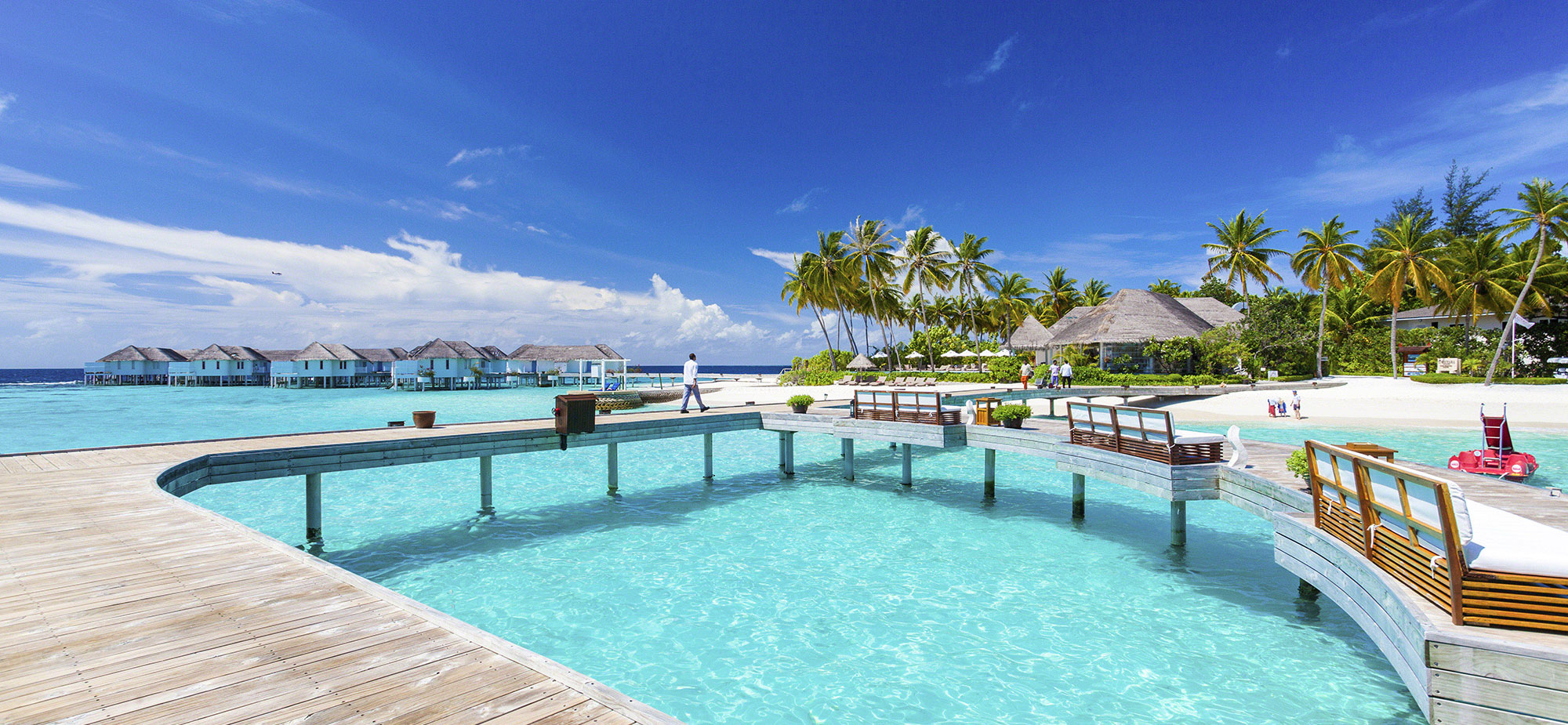 Courtesy of Centara Grand Island Resort & Spa
Ultimate All-Inclusive – What's Included?
A meet-and-greet at Velana International Airport and assistance with a direct seaplane transfer to the resort or with a transfer between Velana International Airport and Maamigili Airport, in the South Ari Atoll, which is a 15-minute speedboat ride away from the resort
A glass of bubbly or a soft drink of choice upon check-in
Sumptuous champagne breakfasts at the Reef restaurant; a selection of three restaurants for lunch and dinner; selected beverages daily; and replenishment of the mini-bar with soft drinks, mineral waters, beers and two bottles of wine
A daily $100 credit to redeem at SPA Cenvaree
A selection of excursions, including snorkeling tours, whale shark boat trips, sunset cruises, local island exploration, and sunset fishing
Windsurfing lessons and equipment / non-motorised water sports / motorized activities, including banana boat and tube rides, and snorkeling equipment for use throughout the stay
Scuba diving – up to three dives per person per week (as an alternative to spa treatments)
Tennis lessons / personalized fitness programs with a personal trainer
Complimentary Internet access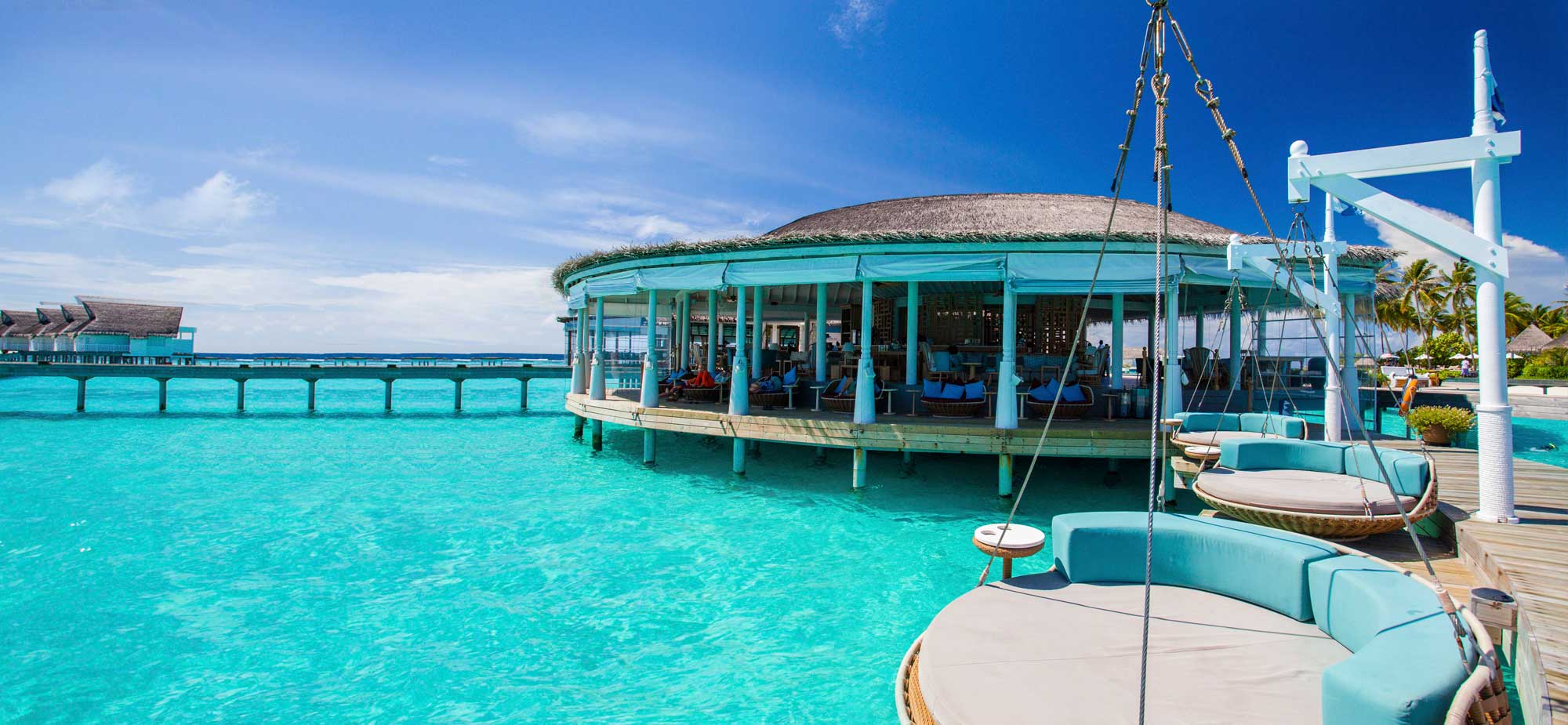 Courtesy of Centara Grand Island Resort & Spa
The tropical island oasis Dhidhoofinolhu is home to LUX* South Ari Atoll resort – a floating paradise of glistening, palm-lined beaches, pristine white sands and lush, tropical vegetation. Capturing the very essence of luxurious island living, the island is paradise found, where exotic fauna and flora abound. Crystal clear waters beckon you to snorkel or dive along the untouched coral reefs while adventure-lovers can enjoy snorkeling with turtles, swimming with whale sharks, or sea-kayaking on tranquil waters.
Beautifully appointed Crusoe-esque style villas offer every comfort, with elegantly furnished rooms, extensive timber terraces flowing out onto decks with private gazebos and breath-taking sea views. Designed to blend seamlessly with the shimmering landscapes of tropical jungle, sand and sea, sun-bleached wood and sculptured stone echo a distinct Maldivian flavor. Beautifully appointed villas possess all the charm of rustic, castaway and colonial architecture without compromising on comfort and modern amenities abound, including air-conditioning, satellite television, and spacious en-suite bathrooms.
Experience a fusion of local Maldivian and Indian ingredients and global food trends with award-winning cuisine and fine-dining experiences at one of eight restaurants and five bars on the island. Savor delicious breakfasts overlooking the beach, take lunch by the swimming pool as you soak up the spectacular views, or sip colorful cocktails with your toes in the sand as you watch the sun sink into the horizon. Explore the coral kingdom on daily reef dives or by snorkeling in the crystal waters, or above water, enjoy windsurfing, kayaking, hoverboarding or sailing, as well as scenic walks or cycling around the island. Click here to book.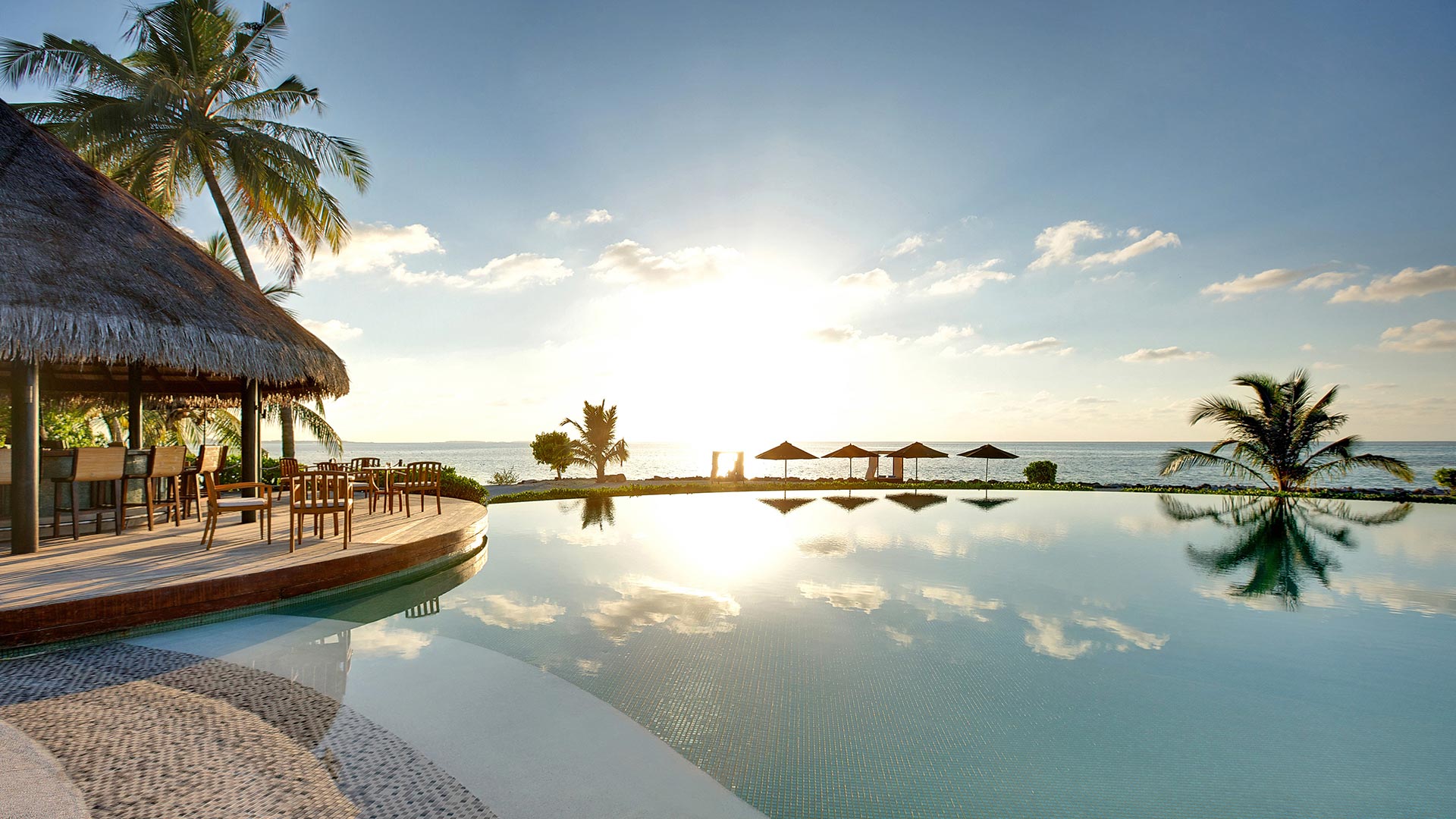 Courtesy of LUX* South Ari Atoll
All-Inclusive Package – What's Included?
Luxurious accommodation in one of the over-water Crusoe-esque style chalets
Breakfast at MIXE and East Market; Lunch at Senses Lounge & Bar, Veli, MIXE, Lagoon Bar and Beach Rouge, and Dinner at Senses, Allegria, MIXE and East Market
Afternoon High Tea served at Senses Lounge and Bar
A wide selection of beverages, including soft drinks, tea, coffee, beers, wines, juices, mineral water, cocktails and liquors; and replenishment of the mini-bar with soft drinks, mineral water, and beers
Yoga and stretching classes, as well as access to the sauna, steam room, plunge pool and spa garden
Daily use of snorkeling equipment, kayaks, pedal boats and scheduled snorkeling trips on house reef (weather and tide dependent)
Unlimited access to the gym, floodlit tennis courts (rackets provided), table tennis, bocce balls, beach-volley, and weekly entertainment such as live music and performances
Complimentary Internet access
Located on the beautiful island of Huvahendhoo in the South Ari Atoll, Lily Beach Resort & Spa is an award-winning all-inclusive resort that offers a world of unparalleled luxury. Reached by a short and a scenic seaplane flight from Malé International Airport, the 5-star all-inclusive Maldives resort provides luxurious over-water villas and suites with private decks or terraces, spacious indoor and outdoor living areas and deluxe bathrooms with spa bathtubs and designer amenities.
Holistic rejuvenating therapies can be savored at the exclusive Tamara Spa's over-water spa pavilions, along with a range of beauty and salon services, and recreation facilities include two outdoor swimming pools with sun decks and poolside bars, tennis courts, and a fully equipped fitness center. A PADI-endorsed diving center offers guided snorkeling, and scuba diving trips on the house reef or one of the world-renowned diving sites in the area, as well as PADI-certified courses for beginner divers. Several stylish restaurants and bars offer delectable Asian and Eastern cuisine accompanied by fine wines and handcrafted cocktails, and live entertainment against a backdrop of panoramic lagoon views. To enjoy these spectacular views, click here to book your villa.
Courtesy of Lily Beach Resort & Spa
The Premium All-Inclusive Platinum Plan – What's Included?
Meet and greet on arrival and departure by the airport team at Male' International Airport
Complimentary VIP lounge access at the Trans Maldivian Airways seaplane terminal
Selection of 80 premium wines from all around the world in the restaurants and bars, including selected French Champagne
Four brands of cigarettes available in all bars
Sumptuous buffet for breakfast, lunch and dinner with live cooking stations, and BBQ at the Lily Maa main restaurant; one a la carte fine dining per person per week at the Tamarind Specialty Restaurant
Unlimited signature drinks, alcoholic & non-alcoholic cocktails, selection of coffee blends, a variety of juices and soft drinks at the Spirit Bar; a la carte menu option for lunch, unlimited alcoholic and non-alcoholic cocktails, a variety of juices, soft drinks, selection of tea and coffee blends at the AQVA Bar; and a la carte menu option for lunch, unlimited cocktails and signature drinks, fresh juices, soft drinks, tea and coffee blends at the Vibes Bar
Mini-bars replenished daily with beer, wine, soft drinks, water, and snacks
Complimentary beachside cooling box with free access to assorted chilled non-alcoholic beverages
Complimentary snorkeling equipment and equipment for non-motorized water sports such as kayaks, canoes, and paddleboats
Free access to the sports complex, including tennis courts, the gym, volleyball courts, the playground and all indoor games, as well as free fitness classes including aerobics, aquatics, yoga, Zumba
Two complimentary excursions per person per stay, including coral garden snorkeling, fishing trip, sunset cruise, or a trip to the local fishing village Dangethi
Complimentary Internet access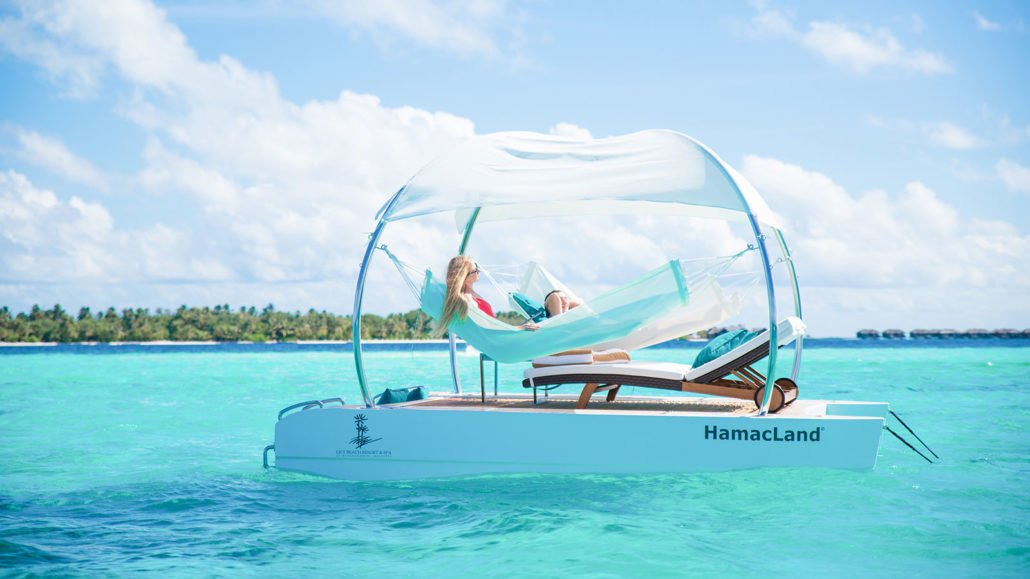 Courtesy of Lily Beach Resort & Spa
Located on the southernmost tip of the Ari Atoll, Maafushivaru is a 500m-long island that is home to a luxury resort by the same name that offers an idyllic tropical getaway. Surrounded by gin-clear waters with a bustling house reef, powder-white soft sands, and lush vegetation, Maafushivaru epitomizes the magic of the Maldives.
The deluxe resort features elegantly appointed contemporary-chic beach or over-water villas with outdoor terraces and private plunge pools. Designed to reflect the Maldives' unique culture, the beautifully appointed villas are dappled with shade from surrounding palm trees and feature airy living spaces furnished in stylish contemporary décor, and a range of upscale amenities.
The elegant resort boasts an array of luxury facilities, ranging from several award-winning restaurants, lounges, and bars serving Asian and Eastern-inspired cuisine to an acclaimed wine cellar with a selection of fine wines from around the world. Guests can enjoy scuba diving and snorkeling, swimming, fishing, sunset cruising, and other water sports, as well as a variety of holistic and pampering spa and body treatments at the resort's exclusive spa. Don't wait to experience this out-of-this-world getaway, click here now!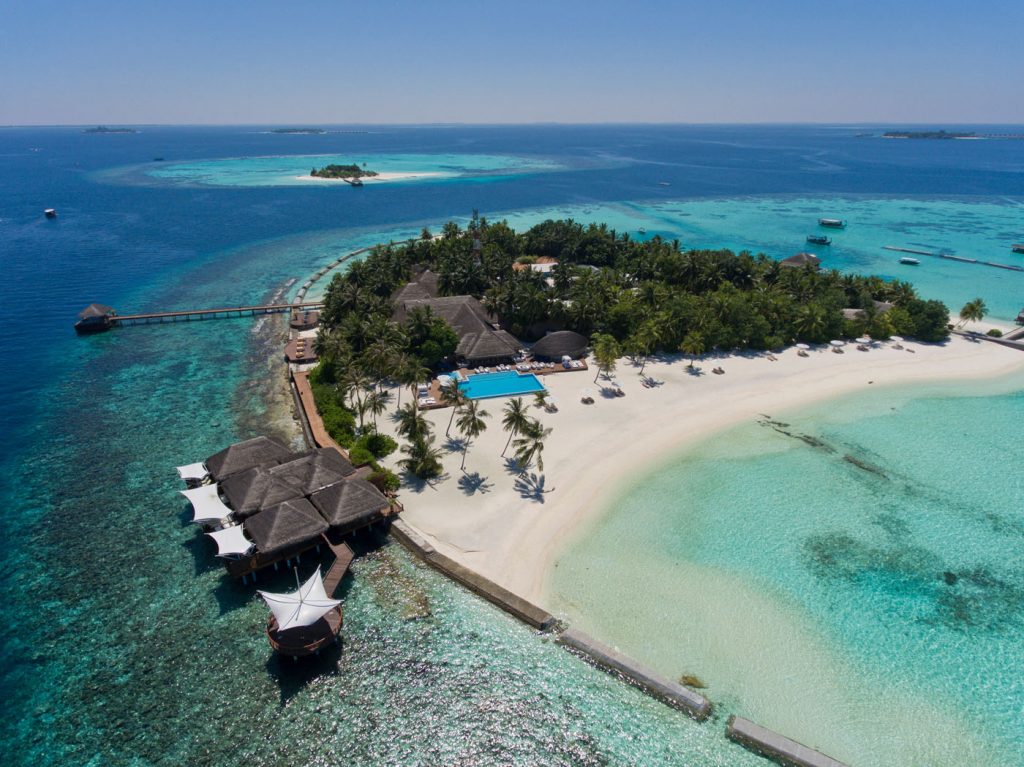 Courtesy of Maafushivaru Maldives
All-Inclusive Package – What's Included?
Main meals for breakfast, lunch and dinner buffets served in the Cuisine Gallery

Daily High Tea with tea/coffee and snacks in the Library Lounge
Beveragessuch as soft drinks, spirits and liquors, cocktails, house wines by the glass, Carlsberg draught beer and house mineral water. Villa minibars include non-alcoholic beverages
Use of snorkeling equipment
Excursions – one Sunset Cruise per person per stay
Complimentary Internet access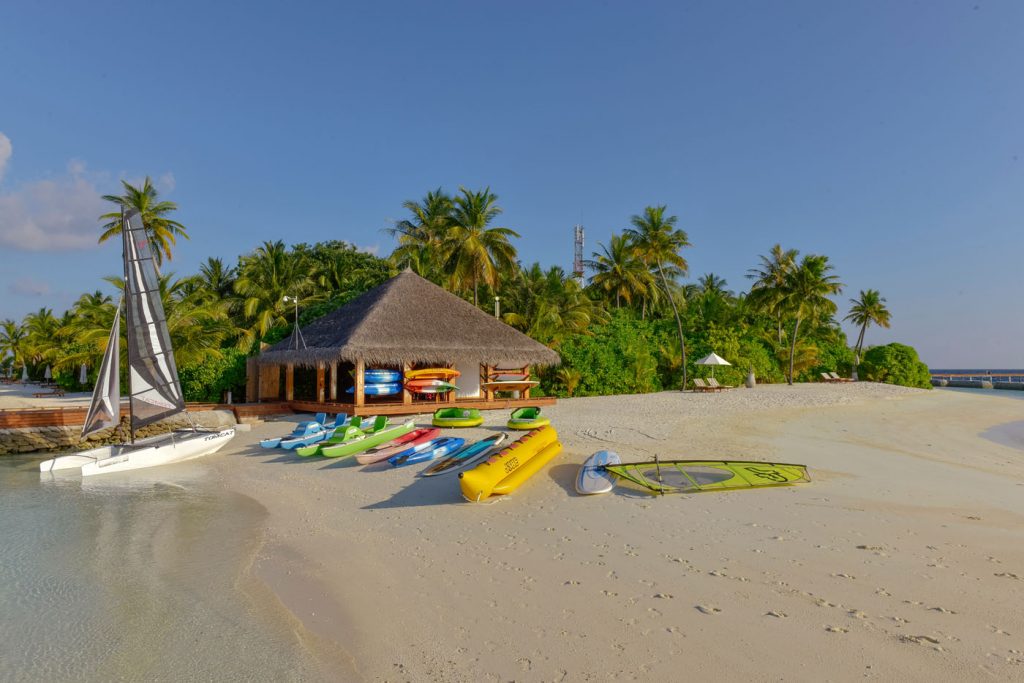 Courtesy of Maafushivaru Maldives
Set on the secluded Moofushi Island in the Alifu Atoll of the South Ari Atoll, Constance Moofushi brings together luxury and simplicity to create a slice of heaven on earth. Exuding barefoot chic, the resort boasts exquisite accommodations, award-winning dining, world-class facilities, and an array of land and water-based activities to enjoy.
Epitomizing luxurious island-style living, beautifully appointed contemporary villas set on the beach or suspended over the water ensure an intimate and unforgettable experience. Designed for elegant comfort and style, suites and villas boast modern décor that echoes the surrounding accents of this island oasis. Elegantly furnished to enhance the creature comforts of home with special extra touches, living areas have deluxe amenities such as air-conditioning throughout, fully-stocked mini bar-fridges and flat-screen satellite televisions, DVD players, iPod docking stations, and international dial telephones.
The elegant over-water Uspa by Constance offers a selection of indulgent and pampering spa treatments against a backdrop of breathtaking views, as well as a yoga pavilion and steam rooms, while a fully equipped fitness center, outdoor infinity swimming pool, and beach volleyball courts provide ample ways to keep fit. International buffet-style feasts, exceptional dining experiences and sunset cocktail hours are offered at several restaurants and bars around the resort, and a dedicated dive center provides snorkeling and scuba diving excursions on the house reef and renowned dive sites in the area. Indulge in this once-in-a-lifetime opportunity and book your spot here.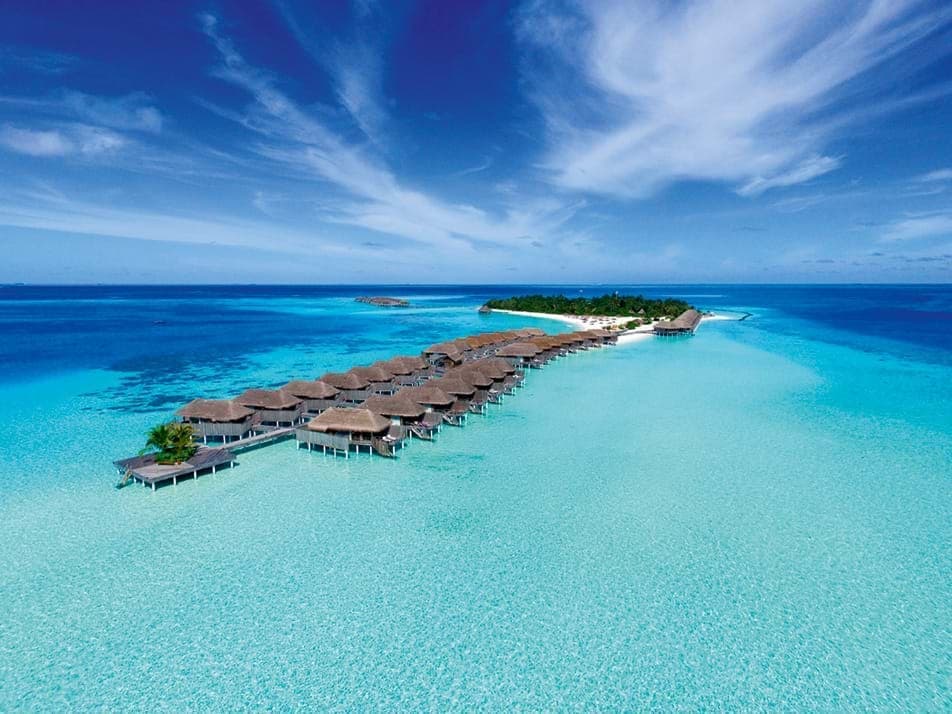 Courtesy of Constance Moofushi
All-Inclusive Package – What's Included?
Personal greeting and escorted transfer to the private Constance Hotels & Resorts seaplane lounge by private bus
A variety of super-premium branded spirits and international beers; fresh drinks, soft drinks, and mineral water; unlimited cocktails and Constance signature drinks; house champagne during meal times; and wines from around the world (France, Italy and the New World)
Mini-bars stocked with selected red and white wine, beers, soft drinks, Moofushi water and snacks and refilled once daily
All meals (breakfast, lunch, and dinner) in the Manta restaurant with daily themed buffet menus; lunch at Alizee and Totem Bar; and one a la carte dinner at Alizée Beach Grill Restaurant and afternoon tea at the Totem Bar
Cigarettes from each bar by piece and served individually from the Humidor
Snorkeling equipment and guided snorkeling excursions
One boat excursion per stay of 7 nights
Access to the fitness center, all indoor games, all non-motorized water-sports (excluding lessons)
Complimentary high-speed wireless Internet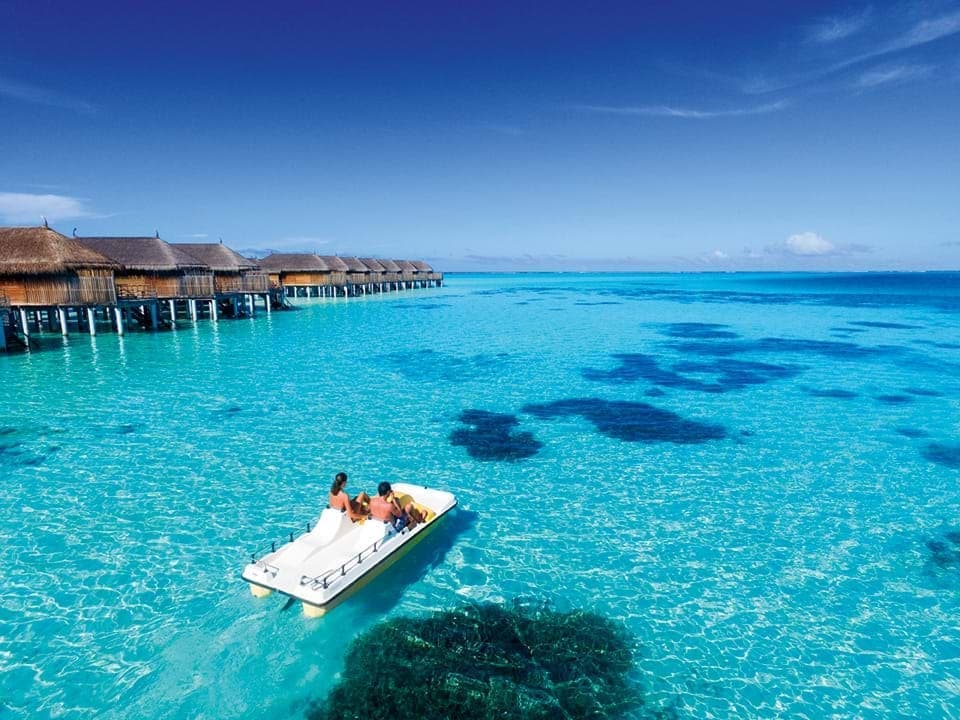 Courtesy of Constance Moofushi
Article by Mia Russell©