So you've spent hours reading over resort reviews, you've booked your seaplane transfers and luxury Maldives hotel, and you're now counting down the days until your Maldives vacation. Lucky you! These idyllic islands are a once-in-a-lifetime holiday spot for many, and you'll be sure to have the most incredible time.
Part of having a great vacation is to be able to capture those special moments on camera and have them as little keepsakes of your Maldives getaway (and make your friends envious on social media too). The Maldives are so achingly beautiful, that those silky soft sands and golden sunsets are just waiting to be captured.
You don't need to be a pro, or even have the fanciest gear around in order to take the best Maldives photos. With these simple tips and tricks, you can improve your photography skills ten-fold, and create stunning photographs that you will treasure for years to come.
What Photography Gear Should You Take to the Maldives?
Smartphone cameras have come leaps and bounds, and they can take impressive high-quality photos that are perfect for sharing. However, if you have a little budget to play with, you will get some amazing results if you invest in a mirrorless or DSLR camera to take with you on your Maldives trip.
Even if you're a complete newbie to using these types of camera, an entry-level one will be relatively easy to master and it will also give you a little 'passion project' to work at while you're in paradise. An affordable small camera that's a favorite with travelers is the Canon g7x mk2. If you want to go for a DSLR, then the Canon 80d is a great choice, also a little bulkier. If you plan on shooting some high-quality videos, and you have a little more cash to splash, then check out the Sony A6000.
Another piece of kit that is worth having is a tripod. You can get a lightweight one which folds down to help save space. A tripod will keep those shots blur-free, while also allowing you to capture photos of you and your loved ones without having to whip out a selfie stick.
Accessories are also important if you want to up your photography game. Invest in a padded bag or backpack if you don't already have one, as this will protect your camera while you are traveling. You should also bring along a spare battery, so you don't ever have to worry about running out of juice, as well two clean memory cards.
Don't forget your charger and a card reader or cable if you want to edit photos while you are there. You may also need an adapter to convert your plug: In the Maldives, the electricity supply is 220V to 240V, 50Hz AC, and the standard socket is the UK-style three-pin. Don't panic if you've forgotten yours though, almost all resorts will have ones that you will be able to borrow.
It's worth noting that many of the seaplanes do come with weight limits for your luggage. So unless you are lucky enough to have booked your own private seaplane, check that you are not going over your allowance before you depart.
Underwater Photography in the Maldives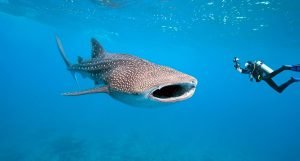 The Maldives underwater world is filled with magic. When you snorkel or scuba dive in the turquoise waters you may spot reef sharks (don't worry they are friendly), dolphins, turtles, manta rays and hundreds of other species of colorful beautiful fish. In fact, many people say that swimming in Maldives sea is like swimming in a tropical aquarium! With so much to see, it's a nice idea to bring along a waterproof camera. A GoPro is an excellent choice as it takes up very little space, and you can easily pop it into your suitcase. Just make sure that you buy one that comes with the full waterproof housing. Or, you can invest in a waterproof shell for your camera or even your smartphone. If you haven't booked yet, then read more about our favorite resorts for snorkelling and diving. 
Five Simple Ways to Improve Your Maldives Photo Skills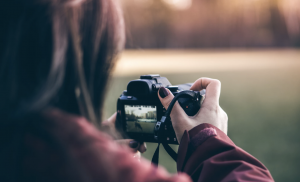 Now for the tech stuff. If you have the time to enroll in a mini photography class, be in online or in person, then you can greatly improve your skills. But if that isn't possible, then you can keep these simple tips in mind to take the best Maldives photos.
Composition: The Rule of Thirds
The rule of thirds is a basic photography tip that many people follow to improve their photos. The theory behind it is not to place your subject smack bang in the middle of the frame, but instead in one of the 'thirds'. You can do this by dividing your frame into three sections (there are even grids on an iPhone that will do this for you). This will draw the viewer's eye to both the subject, and to that beautiful Maldivian backdrop that you are shooting against – which results in a more interesting and compelling photograph.
Experiment With Angles
The Maldives is a place to kick back and relax, rather than sightsee. Because of this, many people report getting a touch of island-fever on long Maldives holidays. Therefore, allow your inner photographer to come out and really get creative with your shots. Try placing your camera in different spots than you normally wouldn't have thought of. A top tip is to buy a bendy gorilla pod. These will allow you to attach your camera or smartphone to almost anything – be it a palm tree, or the roof of your villa. It may not always work in your favor, but you will be sure to get some more unusual shots this way.
Work With the Light
Always think about where the sun is in relation to your subject or landscape. The human eye is able to pick up so many more colors and details then the camera lens when it comes to lighting. So if a person is standing with the sun behind them, all you are likely to be left with is the outline of a figure – even though it may look like their features are highlighted in person. Of course, this can actually work if you are going for the silhouette at sunset look, but if you want to capture expressions and facial features, then always stand so that the sun is shining on your subjects face.
Be careful though, midday sun has the tendency to 'wash out' people, so you'll need to time your shots right. The golden hour is always a great time to get snap happy. This happens an hour after sunrise and an hour at sunset, where the light is golden and beautiful.
It's worth getting up just before the crack of dawn to get some really special shots in. Not only will the light be perfect, but there is also something very magical about rising before everyone else.
Swot-Up Before You Go
And finally, set aside a few hours before you go to really deepen your photography skills in a few simple ways. Obviously, you're interested and have already begun that journey by reading this article, but there are a few more things that you can do. Start by downloading a few extra apps for your phone. These can include things like editing apps, burst functions, self-timers e.t.c Even if you don't end up using all of them, it will give you something to play with on the plane when you're sick of watching movies.
If you have a new camera, have a read over the manual. Or better yet, watch a few videos on YouTube as to simple tricks that you can use to transform your photography skills and really get the best out of your recent purchase.
Maldives Honeymoon Photoshoots
Are you honeymooning in the Maldives? If so, congratulations, and well done for picking one of the most romantic hotspots in the world to celebrate your marriage in. While you can certainly capture your own magical moments, one of the best ways to get some really special photographs is to hire a honeymoon photographer to do it for you. This doesn't mean flying out your own team (unless the budget allows for that of course), instead, you can chat to the resort about having a honeymoon photoshoot package. Many resorts offer this as an add-on, while some will even include it in their honeymoon packages. 
These packages will vary greatly in what they include. Some are a simple hour-long shoot at sunset, while others can include things like hair and makeup, digital retouching, and even a photo book-filled full of precious photos sent to you back home. If you are having a honeymoon photoshoot, then it's a good idea to have a think about the clothing that you will wear during your shoot. You will want to wear something that complements each other to make the photos look more professional. Some people even like to bring their wedding dress to capture some stunning images on the beach (just make sure that you have space). Check out our article for our top picks on five-star resorts in the Maldives. Some of the most-loved honeymoon hotels include the Centura Grand Resort and Spa (click here to see their incredible over water villas),  as well as the celeb hangout, the One and Only Reethi Rah.
Top Tip: Remember to Disconnect
Finally, and this tip is equally important as the rest, is to remember why you are going to the Maldives in the first place. The reason is probably to unwind, disconnect from everyday life, reconnect with nature and enjoy your time with loved ones. And while you may capture some incredible moments, try not to spend too much time editing, working, or sharing these images on social media. After all, there is plenty of time to do that when you get back home.
Instead, really allow yourself the luxury of being present, and enjoying all of the beautiful things that luxury Maldives resorts have to offer. Many of the larger resorts now have technology-free areas, where you can enjoy reading a book, sipping on a glass of bubbly or simply chatting to other guests without having to see people glued to their smartphones. Capturing moments is great, but making them is better.
After you've returned from your vacation, you will want to think about how to best display your photographs. Of course, sharing them online is very easy and popular. But did you know that having photographs printed is actually making a comeback? You can choose to get your best Maldives photos blown up to display them around the home, or even present them to your partner as a sweet and thoughtful gift. You can also get them printed onto all manner of objects, such as a mug – so that you can be reminded of your amazing Maldives holiday every time you take a sip of coffee.
If you need a little extra help planning for your Maldives trip then check out our special guide that covers everything you need to know before you go.
So grab your camera and follow the above tips, and you will be well on your way to becoming an amazing photographer. Happy snapping!