Oh, the Maldives; Perhaps the most beautiful holiday destination in the whole world. We could spend hours telling you about how sugary white the sand is, or how dolphins frolic in the azure ocean (they really do), but you probably already know that.
Instead, you're here to find a little more practical information on Male International airport, facilities, Maldives resort transfers, weight limits and so on. Well, we have you covered. We've created the ultimate guide to Maldives airports, as well as five top tips for a great flight, so you can arrive in the Maldives, well-rested and ready for the holiday of a lifetime.
Maldives International Airport: Location and Facilities
The Maldives is served by Malé International Airport, which is less commonly referred to as Velena International Airport (MLE). This airport is located on the manmade Hulhule Island in the North Male Atoll. In recent years, the airport has undergone considerable expansion and refurbishment to help keep up with the large number of tourists flying into the country each year. The airport has three main terminals, international, domestic and a seaplane terminal.
Despite its small size, the airport is full of amenities to help ensure that you have a comfortable and convenient arrival or departure. There is a 24-hour health care center, as well as a fully-stocked pharmacy. There is also an infant and mother care center, free trolley access, baggage storage and wrapping services, free shower rooms, a prayer room, smoking lounge, Internet kiosks, several ATM machines, and even a post office.
The new airport wellness center is the place to head if you want to relax and unwind (some more) before you get on your plane home. This beautiful space is where highly trained spa therapists offer a range of pampering treatments including massages, manicures, and pedicures. Walk-in appointments are welcome, and they even have mini or quick treatments if you are stuck for time.
Shopping in Maldives Airports
If you're thinking about shopping in Maldives Airport before your flight, then the recently updated shopping area in the airport is sure to impress. Here, you will find over 670 sqm of duty-free shops that offer liquor and tobacco, perfumes and cosmetics, souvenirs, and confectionary. There is also a lovely Spice Shop which offers local herbs, loose teas and coffee sets that makes great gifts to take back home.
If you're feeling a little peckish pre-flight you can grab a light snack or quick meal at one of the several food outlets. There is also an ice cream parlor, a casual Thai restaurant, as well as a sit-down Dome Male Restaurant that offers European favorites in a cozy atmosphere.
What Airlines Fly to the Maldives?
The Male International airport is served by a surprisingly large number of carriers. SriLankan Airlines sit the top spot for the largest foreign carrier, as they now operate 35 flights a week to and from the Maldives. Other airlines that fly here include Aeroflot, Air France, Air India, Bangkok Airways, Cathay Pacific, Condor, Etihad, Emirates, FlyMe, Hong Kong Airlines, Lufthansa, Korean Air and Turkish airlines to name just a few. AirAsia X has recently started to operate low-cost flights to the Maldives from Kuala Lumpur.
There are no direct flights that leave from anywhere in the United States to the Maldives. If you are flying from the U.S then you will need to take a connecting flight, or even plan a multi-trip stopover on the way. Some popular stop-over destinations include Dubai, Kuala Lumpur, Singapore, and Bangkok.
Speedboat and Seaplane Transfers in the Maldives
Did you know that the Maldives is home to the biggest seaplane departure area in the world? There is a seaplane departure point that is located right next to the main airport. This seaplane area provides the gateway to most of the top Maldives resorts. including the stunning Constance Moofushi (Click here to oogle over their luxury over water villas). Some of the main seaplane transfer airlines that depart from that include Atoll Transfer and Trans Maldivian.
After booking your Maldives resort, you will receive details on how to go about booking your transfers. For the majority of the resorts, you will need to hop on a seaplane, while those closer to Hulhule Island may be accessed by speedboat. Seaplane transfers can be rather pricey, and the set amount for a seat on shared seaplane can often be upwards of around $500 per person – and even more during the high season or special holidays. You won't receive a guaranteed departure time, as all seaplane flight departures and heavily dependant on weather conditions. Instead, you will get a time that you should be at the departure point from.
When you arrive at the airport, there will be a resort member of staff waiting for you with a sign. They will then help to transfer you to the seaplane departure point, so don't worry about having to find the spot yourself.
Some of the top resorts such as the fabulours all-inclusive Constance Moofushi have a luxurious seaplane lounge that you can relax in while you wait for your next flight. These lounges will often have shower facilities, as well as free minibars and snacks to help keep hunger at bay.
All shared seaplane transfers will come with a luggage limit allowance. This will vary depending on the airline that you choose to fly with, but typically you are allowed to take around 20kg in checked baggage plus 5kg hand luggage. Excess baggage (for an extra fee) may be allowed if the plane is not full, but always check beforehand.
A seaplane flight is such an experience, and they will probably be one of the highlights of your Maldives adventure. They allow you to soar high above the turquoise shimmering waters, and soak up a birds-eye-view of the tiny palm-fringed islands below. Seaplanes can get pretty cramped though, and all luggage will typically be stored at the back of the plane (even handbags), so be sure to grab your camera out of your bag before you get on. Check out this article if you want advice on how to take the best Maldives photos. 
If the thought of a seaplane makes you nervous, then you may want to look into booking a resort that is closer to the airport so that you can get there by boat. Resorts such as Centara Ras Fushi Resort (check out that infnity pool) and Baros Resort offer speedboat transfers. Remember, if you don't fare well on water then pack some anti-seasickness tablets to help you with the journey.
Maldives Airport Hotels
Seaplanes do not depart after dark, so if your flight arrives late then you will need to stay in a nearby airport hotel. Luckily, there are a few nice spots that will help you to get some rest before your morning flight. Hulhule Island Hotel (click here to see their lovely oceanfront pool) is perhaps the most luxurious of the lot. This 5-star resort-like establishment offers up a large outdoor pool that's just steps away from the beach, tennis and volleyball courts, a spa, sauna, and fitness center, as well a bright and airy rooms that have all the amenities you need for a dreamy night sleep. This hotel is just 5 minutes drive away from the airport, and free airport shuttles are available.
Another more economical option is the Hotel Jen Male Maldives, which is located just 1.1 miles away from the airport. This well-kept hotel features a large rooftop pool which offers incredible views of the island. The 117 guest rooms are beautifully decorated and come with free WiFi, premium TV channels, and aircon. A plus is the 24-hour fitness center and free airport and ferry terminal shuttles. All airport hotels can get booked up pretty fast in high season, so be sure to book your room with plenty of time in advance.
Other Airports in the Maldives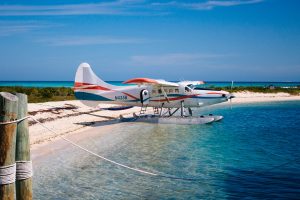 Almost all international visitors will arrive at the main airport listed above. However, there are three more international airports in the Maldives: Haa Dhaalu, Addu City, and Alifu Dhaalu.
There are also a few other very small domestic airports that are located in and around the Maldives. These domestic airports provide a way for you to island hop, and you may find yourself heading to one if you are taking a private plane tour. These airports include Ifuru, Kadhdhoo, Dhaalu, Fuvahmulah, Thimarafushi and Kooddoo Airport.
Banned Items in Maldives Airports
It is illegal to bring any sort of alcohol into the Maldives, so make sure that you leave the tipple at home. When you arrive at Male International airport, you will have your hand and main luggage x-rayed. Make sure that all medication is clearly labeled and that you have a prescription for it. Bibles are also illegal, as well as some religious-related texts. If in doubt, leave them at home.
Three Top Tips to Make Your Maldives Flight More Enjoyable
With the average New York to Maldives flight (with a connection) taking around 24-hours, you will need to plan in advance to make sure that your flight is as comfortable as possible. Here are five simple tips that will help you to travel smarter:
Invest in Airport Lounges + Extras
If you're not flying first or business class, fear not! There are still several ways that you can gain access to airport lounges. Many of the largest airports will have lounges that you can simply buy a day-pass for. Check online for the best deals before you leave. These lounges can really make all the difference to how you feel, plus they help you to start your trip in style. Most lounges include an array of foods, soft and alcoholic drinks, premium tv channels,  and WiFi, while some even have masseuses on hand to pamper you pre-flight.
Pack a Flight Bag
Gone are the days of lovely in-flight kits (unless you're up in First), however, you can make your flight a little more cozy by packing your own in-flight goodie bag. Pack a pair of your softest pants or leggings, as well as a soft t-shirt, some earbuds to block out the noise, a neck pillow, and an eye mask. A spritzing water spray can really work wonders to help keep your skin hydrated, while lip balm is also a great call.
Stock up on Entertainment
Yes, the plane and your Maldives resort will have a ton of entertainment options to keep you occupied, but it's always worth downloading your own favorite shows, films, and documentaries before you go. The same applies to books. Purchase that book that you have always been wanting to read, or make sure that you fill your Kindle with lots of new titles
Keep Jetlag at Bay 
No one likes jetlag, and it can have huge impact on how you feel and the quality of your Maldives holiday. To beat the timezone tiredness, try ditching the sleeping pills, coffee and alcohol on the flight, as these will only make you feel 'fuzzier' when you land.
As soon as you get on the plane, set your watch to the timezone in your destination, and try your best to eat and sleep in accordance with this new time zone. Try out several simple exercises to keep the blood flow moving, and eat light, fresh meals where possible. Stay hydrated too: a top tip is to bring along some herbal tea bags, and then use them instead of caffeinated tea or coffee.
Keep the Kids Happy
Traveling with the kids? Okay, we feel you. They also deserve their own goody bags that can include toys, coloring pencils and other travel-friendly items that will help to keep them entrained in the air. An iPad stocked full of games and new kids movies can also be a lifesaver. Bring along a range of snacks too, and perhaps a favorite teddy bear or blanket to help to comfort them on the trip. Looking for a romantic holiday for two? Head over to our guide to the best Maldives resorts for adults. 
How to Find Cheap Flights to Maldives Airports
Over The past few years, flights to the Maldives have become increasingly more affordable. In fact, the cost of a return flight to the Maldives from Europe can actually work out cheaper than seaplane transfers! If you want to find the best flights to the Maldives then we recommend being flexible with your schedule. Try using Skyscanner to search for flights over a whole week, month or even year to find incredibly cheap deals.
You may also want to consider a stopover in one of the destinations listed above. Not only will this allow you to explore a new destination, but connecting flights may also save you extra cash too. We have a whole helpful guide on how to find cheap Maldives deals, which covers how and where to find the best flights too. Check it out here if you want to save money on your next Maldives trip.
That pretty much covers everything that you need to know about airports, airlines, and Maldives resort transfers. Follow our tips and you will be sure to have a magical getaway to the Maldives. Happy flying!