Think of the Maldives and you'll probably picture paper-white sands, palm-fringed islands, and over-water villas. Along with Bora Bora, the Maldives are world-famous for stilted accommodations that perch above azure lagoons and glittering waters. Almost every Maldives resort offers some sort of over-water accommodation, so choosing which one to stay at can be a tricky task indeed. We've done the hard work for you, and compiled a list of our top 5 water villa resorts in the magical Maldives.
Cocoa Island by Como: A Water Villa-Only Resort
Cocoa Island is an unusual resort because all of its 33 villas are set over the water. There are a range of styles of water villa to choose from, with one of the quirkiest being the wooden Dhoni Suites that are inspired by traditional Maldivian fishing boats. They feature a large outdoor seating area, Balinese-inspired daybeds, private sundecks with comfy loungers, a large tub and all the mod cons you need for a convenient stay. The Dhoni Suites aren't floating though – they are permanently fixed to the lagoon jetty, so you don't have to worry about getting seasick!
Other water villas options here include split-level dhoni loft suites which have airy interiors, vaulted ceilings with full-length glass windows, as well as a large downstairs living space to unwind in. The spacious decked terrace has steps that lead straight down into the warm waters of the lagoon. There are also loft villas and one-bedroom villas, yet the star of the show goes to the enormous 3229 sq ft COMO sunrise and COMO Sunset Villas. With their own private jetty, separate wings, outdoors showers, step-off the deck balconies, and a private butler service, these villas are certainly impressive.
As for the resort, Cocoa Island by Como offers a more laid-back, rustic vibe which only adds to its charm. Click here to see more photos and book at stay at Cocoa Island. Drawing inspiration from both Maldivian and Balinese culture, it does lack a little of the bling-factor of mega-resorts though, so if you want everything to be new and shiny, then this may not be the spot for you.
St. Regis: Overwater Opulence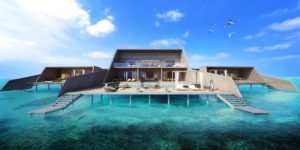 The St. Regis resort seems to be a top 5 fixture in many best Maldives resorts lists. With 77 beachfront villas made from recycled materials, and on-island stay is sure to impress, but if you really want to experience the most luxurious and iconic accommodation then choose to book a stay in a water villa.
The most economical over water option (which still actually isn't that wallet-friendly) is one of the water pool villas. These incredible spaces actually look quite different from many of the other thatched roof traditional villas that you may be used to seeing in Maldives resorts. In fact, they have quite a European influence and a very modern twist to their design style.
The rather spacious 182 m2 villas feature a private outdoor terrace area with a 17m2 pool, plus daybeds sun loungers and four over water hammock so you can lounge over the twinkling waters of the Indian Ocean. Inside, you'll find a spacious walk-in wardrobe, an enormous bathroom with deep soaking tub, flat screen TVs with all the channels you could wish for, iPad controls and the Regis signature bed which guarantees a dreamy nights sleep. A nice touch is that the room comes with a private butler who will help to cater to your needs day and night.
But the real star of the overwater villa show at the St.Regis Resort is the jaw-droppingly luxurious Astor Estate Villa. With the ability to sleep 6 guests, and seat 12 for dinner, this huge space covers 154m2. One glance at the villas photos and it almost looks like a resort in its own right. Stay here and you will have your own private gym, multiple walk-in wardrobes, a private cinema room, enormous kitchen, infinity pool with jacuzzi and decking area, and 8 LCD TVs. The room also comes with all the stuff you need to have a convenient and memorable stay including a private butler, dedicated estate butler, staff quarters for maids and nannies, and even private spa treatment rooms off the main bedrooms so that you can have your massage without even leaving your villa. In fact, this villa is hailed as one of the most luxurious hotel suites not only in the Maldives but in the world and the price certainly reflects that; a stay here costs upwards of $27,600 per night.
At the St. Regis you can find all the amenities you'd expect from such high-end accommodations, including a fully equipped gym, public pool, incredible spa, kid's club, multiple restaurants, babysitting amenities, and free WIFI. The St Regis also offers several personalized touches such as a free limousine pickup from Male Airport to take you to the seaplane departure area, as well as fresh coconut water and eucalyptus scented towels when you arrive. Click here to see more photos of St. Regis and book your stay in paradise.
Gili Lankanfushi: Barefoot Luxury
Offering more of that laidback, Robinson Crusoe type vibe is the Gili Lankanfushi Resort. There's only one rule at this resort and that is 'no news, no shoes', meaning that the second you step foot on the sandy shores of this pretty island you can take off your shoes and don't have to put them on until you leave. We also love that the resort offers a special dining experience like nothing else. Book a special private dinner, and you and your loved one will be blindfolded put onto a private buggy and then transported around the island to a secret secluded spot where you can dine under the stars. There are also several uninhabited sister islands just a short boat trip away where you can enjoy dining on a private island with no one else in sight.
All of the island's 45 thatched-roof villas hover over the blue lagoons, and most of them are positioned off wooden jetties. The pinnacle of the island's many water villas has to be the private reserve. This 1,700m2 villa is actually set off the island not only on a not even on a jetty, in fact, you the villa comes with a private boat which you can use to come and go as you please. Sprawled over 3 levels, this villa offers a dream escape and comes with an infinity swimming pool, sundecks, pavilions, a sauna, fully-equipped air-conditioned gym, cinema room, and bar. A lovely fun touch is a waterslide which juts out from the top deck all the way down into the ocean. Residents staying here will also be invited to fill up their wine cellar by choosing from a selection of over 400 wines from around the world. A Mr or Mrs. Friday is also on hand to tend to your needs or to drive the boat should you want a lift to the island's shores.
For a more economical option, choose to stay in one of the 24 luxury water villas. Spread over two floors, these feature beautifully decorated rooms, and floor to ceiling windows in the bathroom so that you can look out onto the blue lagoon while lounging while soaking in an oversized tub. The rooms also come with daybeds, dining areas, rooftop terraces, a Bose sound system as well as bamboo bicycles to help you to get around. The overwater catamaran net provides the perfect secluded spot for topping up your tan or enjoying your favorite book. Click here to get the latest rates on Gili Lankanfushi Resort. 
Six Senses Laamu: Glass Bottom Tubs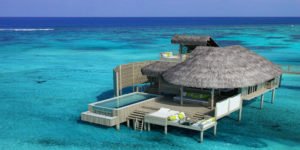 The Six Senses Laamu Resort has many claims to fame, including the fact that the only resort that is located within the Laamu Atoll, it has an ice cream and chocolate studio, as well as an outdoor cinema which is surrounded by lush jungle. The restaurants here are also exceptional; one spot to dine at is Leaf, which serves traditional Maldivian cuisine and is perched high above the organic gardens below and can only be accessed by a rope bridge. There is also a chili bar which features Japanese classics as well as a communal table where you can dine with new friends.
When it comes to the water villas, there are multiple options to choose from depending on your budget and tastes. The lagoon water villas can be accessed by a private timber jetty. They are incredibly secluded with and made from locally sourced timber. One of the most marvelous features of these types of accommodation is the bathroom, as each one comes with a bathtub that has a glass bottom so you can view the incredible marine-life filled waters below. There's also a top decking area with seating perfect for enjoying a sundowner as the sun sets over the Indian Ocean. Garden water villas are an excellent choice if you want to experience life living life on the water while still having very easy and quick access to the main island.
Six Senses crown jewel has to be the Laamu water villa with pool which is set off a weather timber jetty much further away from the main island in comparison to the lagoon water villas. These come with a private infinity pool and lounging area outdoor, and dining spot with amazing panoramic views. Like the other villas, they also have a glass-bottomed tub and treetop decking area. They also feature all the mod cons you would expect including a Bose entertainment sound system, 37-inch flat screen tv with WIFI, walk-in wardrobes, rain showers and iPod docking station. A bottle of prosecco is provided for all guests on arrival, complimentary breakfast is included as are bicycles. Click here for a look at those incredible villas and to book your trip to Six Senses Laamu.
Miladhoo Islands: Sweet Seclusion
Every inch of the Milaidhoo Island resort has been designed with seclusion in mind, this means that you will not only feel miles away from home but also miles away from any other of the other guests. All villas face away from the island so you can marvel at uninterrupted views. The resort features clean modern decor with bright and airy vibes that perfectly complement the tropical scenery.
Everything here feels very new and that's because it is a relatively new resort. The spa is also something which many guests rave about, and it features an extensive menu of treatments as well as the glorious open-air pavilion and over water treatment rooms where you can enjoy a massage, facial, scrubs, and the likes.
It is a rather romantic resort so it's probably best not to bring the kids here, although children over the age of 9 are welcome, we feel like this is more suited to loved-up couples than to a family holiday. Conservation is also considered at the Milaidhoo Resort, and they have a coral adoption program where you can choose to plant a reef and then come back to watch it grow over the years. If you choose to go for the honeymoon package, you will get a real star named after you and your loved one!
The water pool villas are the most of entry-level villas, but you would not expect that looking at them, as they feature incredibly airy and beautiful decor which is highlighted with bright pinks and blues to give it an uplifting vibe. They all come with a large sun deck which has its own private freshwater infinity pool, a Maldivian style spring swing chair, several sun loungers, and oversized daybed, and steps which lead down into the coral field lagoon. When you book a villa here you will also receive free daily breakfast 24-hour island host service, WIFI, laundry, welcome gifts and champagne on arrival.
If you've got the cash to splash, then opt for the opulent ocean residence which sleeps two adults. This over-water paradise features a spacious bedroom area that leads to a secret loft where you can chill out and soak up those ocean views. The outdoor sundeck is also a marvelous spot to unwind with loungers, swing chairs, a huge freshwater infinity pool and what seems like a hundred candles to light up your home-away-from-home at night. The bathroom is pretty impressive too – it's air-conditioned and has large glass windows, a deep bathtub, rain shower and luxury toiletries. I stay here will give you access to a dedicated chef who is able to customize all of your meals exactly to your preferences, you can also enjoy a private outdoor cinema, a villa turndown service, and a meet and greet service available on arrival and departure. Click here to see the latest rates at Milaidhoo Resort.
So what water villa is calling you? The rustic chic of Gili Lankanfushi or the more modern tropical vibe of Milaidhoo? All of these resorts have their own charms, and you really can't go wrong with a trip to any of them! Check out this post if you need more info on when the best time to visit is, or this one for the latest on Maldives cruises. Happy travels.